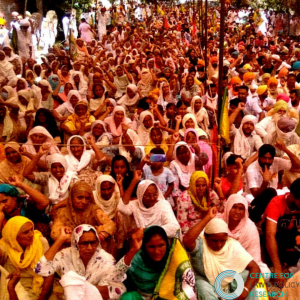 On 11th January, while hearing a case related to the controversial farm laws, the Chief Justice of India said 'At some time, we might say in the order that old people and women need not be there in the protests… tell them that the Chief Justice of India wants them (old people and women) to go back.' The farm laws had triggered a wave of protests across the country, especially in Punjab and Haryana. A large number of women are participants in this protest. As per the Agriculture Census, 73.2% of rural women workers are farmers, and they would be directly impacted by the farm laws. In fact, women farmers are distinctly and more acutely affected in the following ways –
First, only a fraction of women agricultural workers owns the land. Although the majority of rural women workers are farmers, only 12.8% of the total women workers own land. The India Human Development Survey states that 83% of agricultural land in the country is inherited by male members of the family. Further, 81% of women agricultural labourers belong to Scheduled Castes, Scheduled Tribes, and Other Backward Classes, and they contribute to the largest share of casual and landless labourers. Women farmers are usually left without any title to land, which excludes them from the definition of 'farmers.' They are labelled as 'cultivators' or even 'agricultural labourers' but not farmers. This problem of non-recognition systematically excludes them from all the benefits farmers get through various government schemes.
Second, the farm laws further reduce women farmers' agency. The Farmers (Empowerment and Protection) Agreement on Price Assurance and Farm Services Act, 2020 creates a framework to have contract farming agreements. These contract farming rules directly affect small and marginal women farmers since it significantly reduces their bargaining power at mandis, especially if Minimum Support Price is scrapped. Even in a situation where a woman is a landowner, they would not have sufficient agency to fight the mostly male-run bureaucracy in case of disputes.
Third, The Farmers' Produce and Trade and Commerce (Promotion and Facilitation) Act, 2020 assumes that all farmers are mobile, have equal access to transportation facilities and that all farmers can sell or purchase their produce anywhere in India. This supposition of 'competition' overlooks the various issues that women farmers face, like mobility, access to mandis, generational networks to secure buyers as well as current price information. Women also have unequal access to rights over land, water and forests as the Mahila Kisan Adhikaar Manch states. Even the access to storage facilities, transportation equipment, money for new investments, to pay off old debts or for new services, are heavily gendered. This automatically leaves women farmers on an unequal footing.
The new farm laws have the potential to further push women farmers to the margins. The All-India Democratic Women's Association stated that women might be rendered landless and also pushed into a vicious poverty cycle subsequently. To voice their dissent against this, women drove tractors to the farmers' protests, sang songs in rebellion and also fought Delhi's cold winter. Should women farmers, who these laws directly affect, be asked to go home? In fact, should anyone be denied the right to protest (peacefully) given that it is a fundamental right?