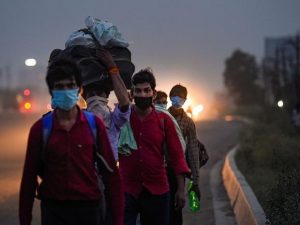 Source: Wikimedia Commons
During the 2020 national lockdown, migrant workers in distress walking hundreds of kilometers was an iconic image of India. The pandemic demonstrated how a lack of sufficient social security measures jeopardise their health, work, and livelihood. But the migrant workers are not only deprived of welfare measures but access to political participation as well. In the context of elections recently concluded in prominent states, it is important to relook into this exclusionary character of the current electoral law framework.
Migrant workers constitute a significant part of the population, who according to the 2011 census are 45 crores, a number that has increased in all likelihood. Among them, circular and seasonal migrant workers are the worst sufferers due to their continuous mobility from one place to the other.  Migrant workers are one of the leased prioritised groups by the government, as evident from lack of any comprehensive resource on data relating to them.
The social and economic realities of migrants put them at a serious disadvantage. In the survey report on 'Political inclusion of Seasonal Migrant Workers in India: Perceptions, Realities and Challenges' by Aajeevika Bureau (by Amrita Sharma, Santosh Poonia, Milind Babar, Vikas Singh, Preeti Singh, and Lalit Kr),  the authors say that "close to 60 percent of respondents had missed voting in elections at least once because they were away from home seeking livelihood options." Migrants are constrained to leave their native constituencies seeking better opportunities, education, and employment. Inter-state and intra-state migration uproot their right to vote and participate in the political process altogether.
Article 326 of the Constitution promises adult suffrage to citizens who are eighteen years old. However, in practise, the electoral law is highly exclusionary, insensitive to the needs of an ever-moving population such as migrants. Conditions for registration of voting are governed by the provisions of the Representation of People Act, 1950. According to section 19, the citizen also must be 'ordinarily resident in a constituency to be eligible. The term is not usefully defined in the statute and there is no clarity on what constitutes ordinary residence. Although a transfer of registered constituency is technically possible, migrant workers who work in deplorable conditions and live in provisional accommodation are unable to show documentation warranting a transfer.  Although the place of birth' is included as a protected characteristic under Articles 15 and 16 and 'migration' finds an express mention in the Equality Bill, 2021, courts have not yet adjudicated the question of discrimination against migrant workers in access to voting.
In spite of access problems and technological advancements, voting in India requires a physical presence. The voter must carry the voter id and must find a place on the voters' list. The exception to this is voting by postal ballot. The postal ballot facility is currently limited to members of the armed forces, police force, etc. S. 60 of the Representation of People Act, 1951 empowers the Election Commission, in consultation with the government, to notify any person belonging to a class of persons to give his vote by postal ballot. However, migrant workers are yet not notified as a class to cast postal voting resulting in their large-scale marginalisation from politics.
The Election Commission is considering Electronically Transmitted Postal Ballot System (ETPBS) – a method of electronic transmission of postal ballots. Extending the system for migrants, if adequately implemented will be fundamental in implementing universal adult franchise. Enabling political participation to the migrants demand political will and efficient policymaking. A democracy is complete not when the privileged are able to vote, but when the poorest are ensured full and effective voting rights.