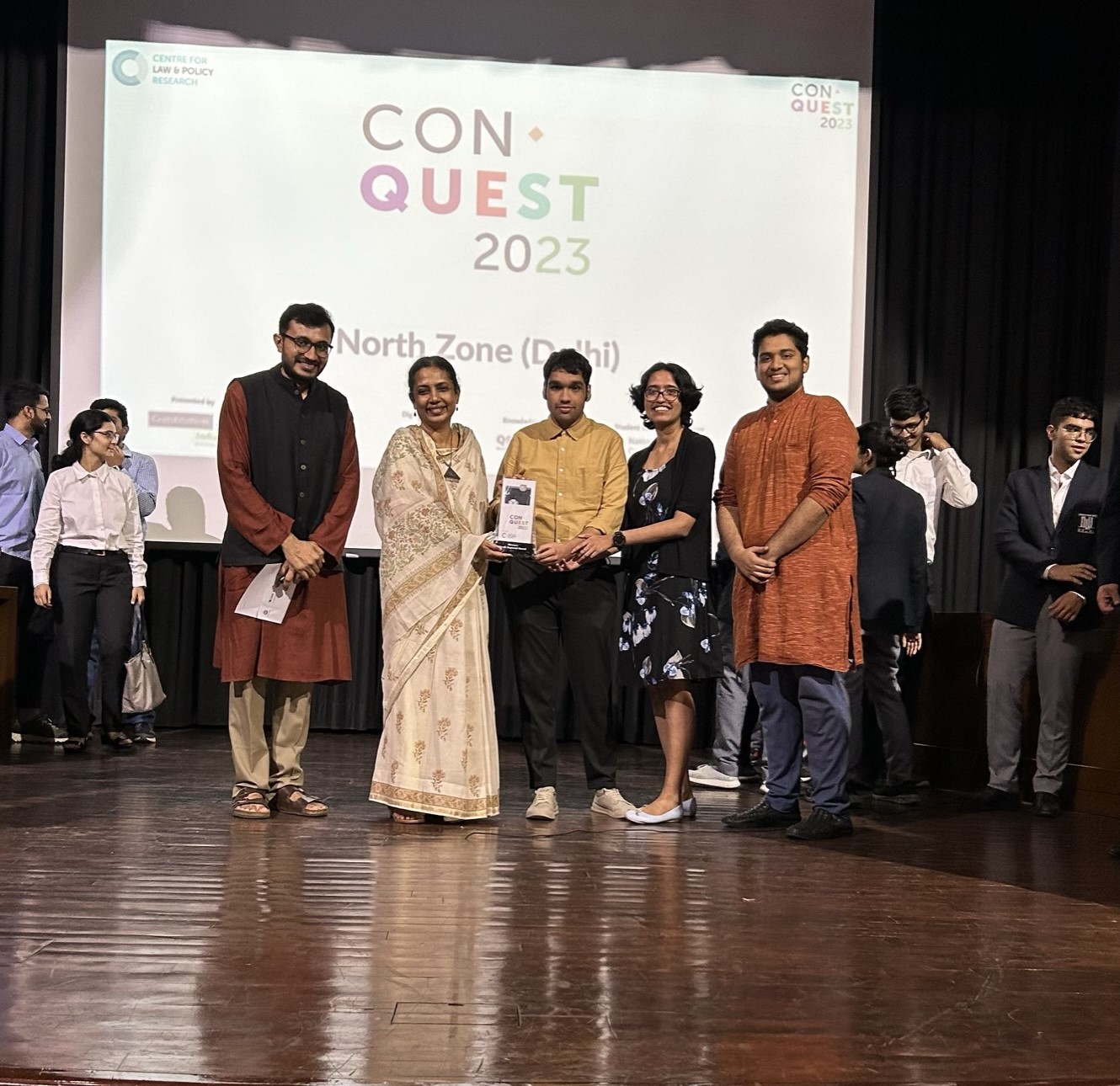 Winners of the North Regional Round of ConQuest 2023.
A Constitution-related question flashed on the screen at the National Law University in Dwarka, Delhi. It captivated the students in the audience who had come from various states including Haryana and Punjab. The auditorium was filled with mounting tension, whispers and anticipation. When the volunteer passed the microphone to a student who answered correctly, the audience burst into applause. The anchor's spirited voice echoed the cheers.
The Centre for Law and Policy Research (CLPR) organised the quiz, which was attended by undergraduate and master's students from 53 colleges and universities in New Delhi and adjacent states. It was the 7th edition of ConQuest—the leading national history, politics, and Constitution quiz in India—hosted by the Bengaluru-based not-for-profit trust.
"The team tries to effectively create a constitutional culture in India. One flagship event, as part of trying to spread constitutional awareness and generate some constitutional engagement is ConQuest, which we do every year," said Vineeth Krishna, Senior Research Associate, CLPR. "The values of the Constitution, not in terms of celebrating the Constitution but the critical engagement of the Constitution that motivates the team. And this is what we want to do."
The organisation has been hosting ConQuest since 2016. It was halted during the two years of the pandemic. CLPR conducts the quiz to promote constitutional culture through digital public goods and civic education. Its flagship initiative, Constitutionofindia.net, is the world's most visited internet collection of Indian constitutional and political materials, opinions, and analysis.
Based on their performance, six teams from a variety of colleges and universities in the auditorium were chosen for the next round of the North Region ConQuest quiz. These included teams from the Indian Institute of Mass Communication (IIMC), Hansraj College, two teams from National Law University (NLU), Faculty of Management Studies, and Law Center 2 of the University of Delhi.
Each team comprised three members, and the quiz had a total of five rounds. The trio from NLU—Kartikya Aggarwal, Ananya, and Rishabh—won.
This article first appeared in ThePrint on 26 October 2023.