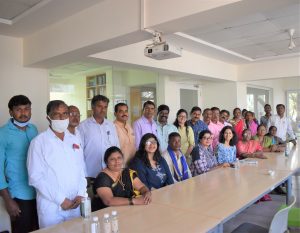 On 23rd January 2021, CLPR organized a workshop titled "Making the Scheduled Castes and Scheduled Tribes (Prevention of Atrocities) Act, 1989 Work". Around 35 activists and members from civil society organisations working towards tackling caste discrimination participated.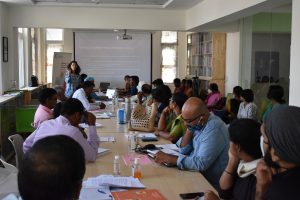 The workshop had three sessions. The first session led by Jayna Kothari, Senior Advocate and Executive Director of CLPR provided an overview of the Schedules Castes and Scheduled tribes (Prevention of Atrocities) Act and Rules, 1989 ('PoA Act'). She began with the history of the Act, and the context in which the Act was introduced. Jayna then took the participants through the specific provisions of the PoA Act, it's various nuances, everyday ground-level challenges in its implementation and its limitations.
For instance, arguably the largest number of cases reported under the PoA Act is filed under Section 3(1)(r). This deals with the punishment for a person who intentionally insults or intimidates with intent to humiliate a member of Scheduled Caste or Scheduled Tribe in any place within public view. She highlighted that given the context in which such atrocities are likely to occur and the lack of definitions, it becomes nearly impossible to prove 'intention' and 'within public view'.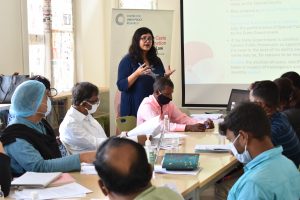 Almas Shaikh, a Research Associate at CLPR, then walked the workshop through the Rules under the PoA Act and all of its key features – such as spot inspection, duties of the investigation officer, protection cells and special officers. She drew attention to how the Rules also provide for allowances for travel, food, and maintenance to not just victims of atrocity but also their dependents. The constitution and manner in which district-level vigilance and monitoring committee was extensively discussed.
The second session was led by Professor Pradeep Ramavath, a professor at the National Law School of India University, Bangalore on the challenges in the implementation of the PoA Act. He gave the context in which these atrocities are often committed. Pradeep highlighted how institutional and structural inequalities, officers with no training, a poor vocabulary with respect to identification of communities and lack of fraternity make the implementation of the PoA Act difficult.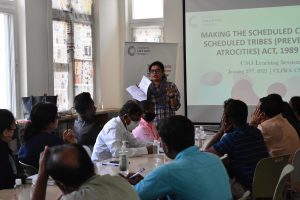 The third and last session of the day was conducted by Yashoda Nele, Convenor of CMASK (Committee for Monitoring and Strengthening SCs/STs in Karnataka), about the enforcement of the PoA Act through courts. She opened up a dialogue regarding the importance of taking initiative and being persistent to get results from the Government. She stressed on the need to conduct training sessions for judicial officers as well as lawyers on the PoA Act.
The workshop concluded with participants giving suggestions on how to better implement the PoA Act and create public awareness. Some of these suggestions included training advocates, judicial officers and police officers, monitoring the number of cases being reported under the PoA Act through applications under the Right to Information Act, 2005, and ensuring the presence of social activists in the monitoring committees.