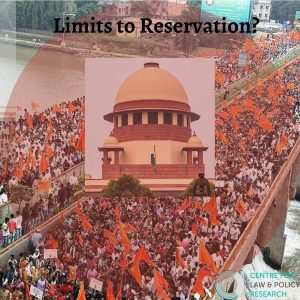 Last week, the Supreme Court resumed hearing the Maratha Reservation case. Justice Nageswara Rao's three-judge Bench is deciding whether Maharashtra can extend reservations in education and public employment to the Maratha community. As Sr. Adv. Arvind Datar stressed in the last hearing, the central issue revolves around the 50% ceiling on reservations set by the Supreme Court back in 1992 in Indra Sawhney. Was Maharashtra justified in surpassing the ceiling by over 20%?
Last year, the Bombay High Court ruled in favour of the State, upholding Maharashtra's Socially and Educationally Backward Classes Act, 2018. Indra Sawhney allows for the 50% ceiling to be broken in 'extra-ordinary situations'. The question has become, has Maharashtra demonstrated that exceptional circumstances exist which require relaxing the rule. Unfortunately for Justice Rao's Bench, Indra Sawhney is very vague on what exactly constitutes an 'extra-ordinary situation'.
In what follows, we revisit what Indra Sawhney held in the context of the on-going Maratha controversy.
Indra Sawhney
Indra Sawhney was of course about much more than whether reservations should be capped at 50%. The nine-judge Bench led by Chief Justice M.H. Kania was deciding the constitutionality of the Mandal Commission recommendations. The Commission had proposed that the State should extend reservations to communities identified as other backward classes ('OBCs'). In its 431-page judgment, CJI Kania's Bench upheld the recommendations, thus allowing for separate reservations for OBCs.
Only one of the nine issues framed by the Court pertained to the question of a 50% ceiling. Ultimately, the Court concluded that equality demanded that at least 50% of seats in education and public employment remain un-reserved. Relying on Dr. Ambedkar's arguments from the Constituent Assembly Debates, it observed that only a 'minority of seats' can be set aside for reservations. Since reservation policies under Articles 15(4) and 16(4) aim to achieve equality (see Balaji v. State of Mysore [1962]), they cannot be so excessive as to deny general classes equality of opportunity, the Court held.
In establishing this 50% ceiling, the Bench briefly recognized that 'exceptional situations' may necessitate breaking it from time to time. However, it never defined a clear set of conditions. Rather, it speculated that 'peculiar' conditions in 'far-flung' and 'remote areas' may make 'some relaxation in this strict rule…imperative'. It stressed that 'extreme caution' must be exercised, when considering breaking the 50% ceiling.
Applicable to Marathas?
Maharashtra is certainly not a 'far-flung' or 'remote area'. Further, merely because Marathas, OBCs and SC/STs make up more than 80% of the population in Maharashtra, it doesn't follow that the rule should be relaxed. Indra Sawhney clearly states that reservations under Articles 15(4) and 16(4) don't aim to achieve proportional representation, but rather just 'adequate' representation.
Then again, Indra Sawhney is sufficiently vague that 'remoteness' could be reduced to a non-necessary condition and 'adequate' construed as proportional. Justice Nageswara Rao's Bench has the opportunity to delineate what counts as an exception. The upcoming judgment could serve as an important precedent for years to come, including for currently pending cases, such as the challenge to EWS reservations.
The next hearing is on 27 July. Get the latest developments on SC Observer.