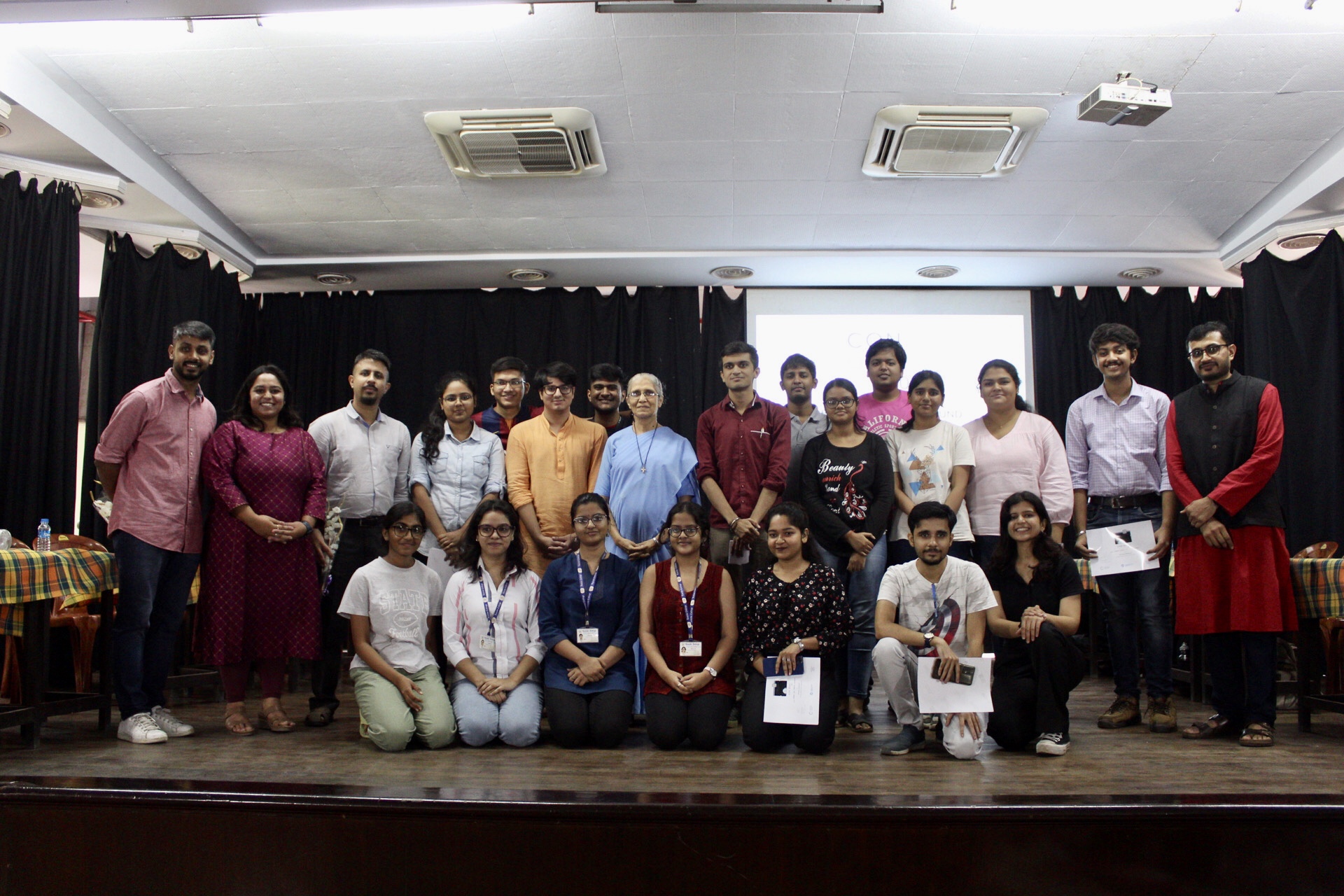 Image: The CLPR team with the East Regional Finalists of ConQuest 2023.
ConQuest 2023, organised by the Centre for Law and Policy Research, Bangalore had an exciting start in Kolkata with the East Regional Round hosted at Loreto College. A total of 33 teams from diverse academic backgrounds, including social sciences, humanities, management studies, and law, gathered to both learn and compete.
After a fiercely contested preliminary round, six teams advanced to the regional finals: Loreto College Kolkata; National Law University Odisha; National University of Juridical Sciences (NUJS) Kolkata; Indian Institute of Management Calcutta; St. Xavier's College Kolkata; and Jadavpur University Kolkata.
The question bank, co-developed with Qshala, a curiosity-based learning platform, delved into various aspects of India's constitutional and political history, shedding light on lesser-known figures and events. For instance, participants and the audience were intrigued by a question featuring a picture of Ammu Swaminathan, a constituent assembly member who criticised Jawaharlal Nehru for tolerating the title 'Panditiji,' which held an upper-caste connotation. Ammu Swaminathan was a prominent member of the Women's India Association, one of India's largest women's rights organisations.
Another question asked students to identify a prominent Indian political leader who, unlike the prevailing political mainstream at the time, viewed the demand for an Indian Constituent Assembly as a 'stunt' and believed that a political revolution should precede it. This was none other than Subhas Chandra Bose.
The theme for ConQuest 2023 was Artificial Intelligence, and participants had a fun question challenging them to name a document that an AI chat program, GPTZero, erroneously determined to be the United States Constitution. This served as a reminder that AI programs, while impressive, are not infallible and should be used cautiously.
After enduring five rounds of intense quizzing, the Indian Institute of Management Calcutta emerged as the winners of the East Regional Round. They were followed by the first runners-up, National Law University Odisha, and the second runners-up, Jadavpur University. IIM Calcutta and NLU Odisha will now compete in the National Finals in Bangalore in November.
With the conclusion of the East Regional Round, ConQuest 2023 now moves on to the West Regional Rounds.
This article first appeared in ThePrint on 11 October 2023.