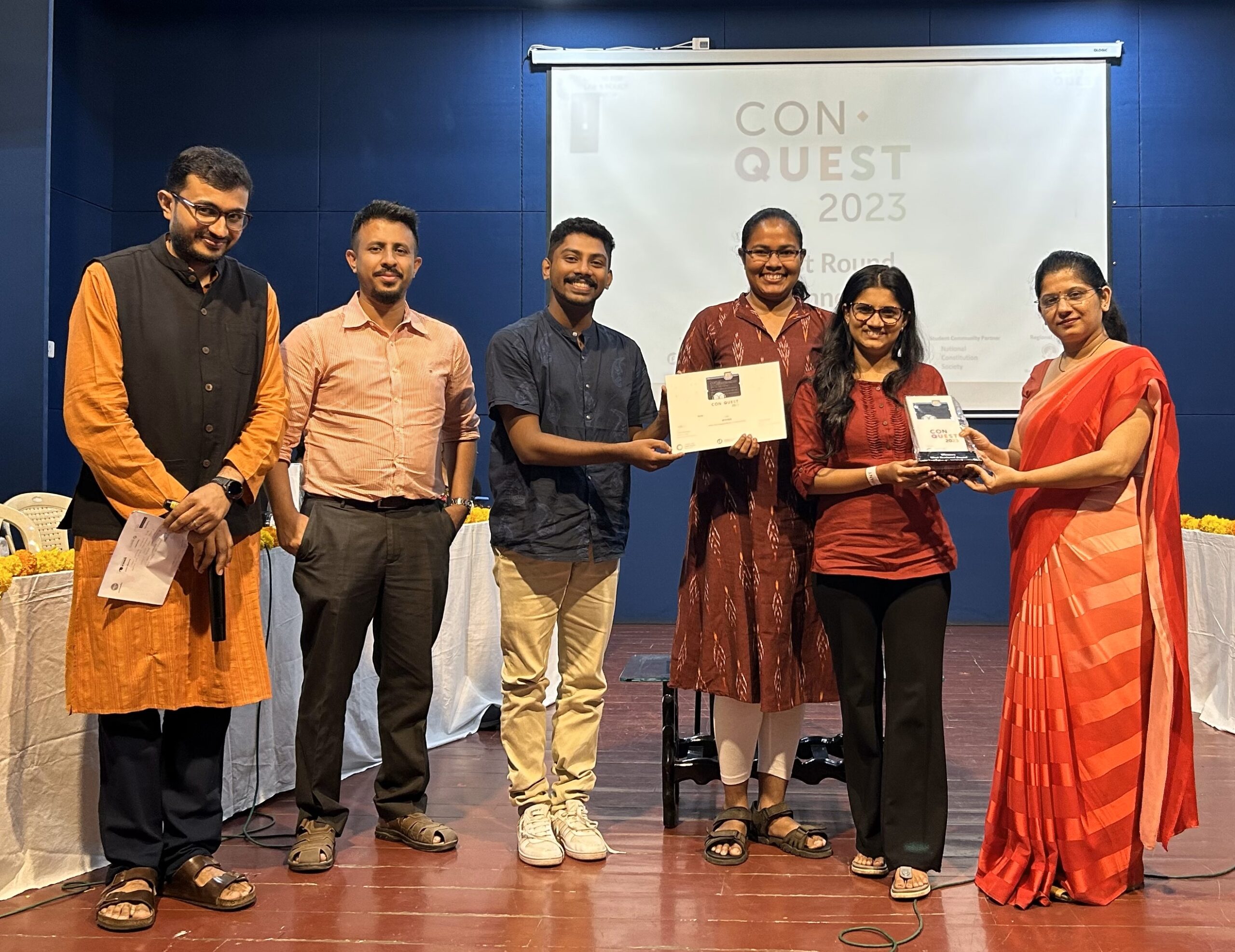 Winners of West Regional Round of ConQuest 2022 from Goa University. 
India's premier national quiz on the Indian Constitution, Politics and History—ConQuest 2023—hosted by the Centre for Law and Policy Research, Bangalore made its way to Pune after opening with a bang in Kolkata. The West Regional round hosted at Shankarrao Chavan Law College, Pune saw a total of 53 teams, consisting of 159 students from diverse academic backgrounds in the West Region.
Following a preliminary round, six teams secured their places in the on-stage regional finals: Armed Forces Medical College, Pune; Gujarat National Law University (GNLU), Gujarat; Goa University, Goa; Gokhale Institute of Economics and Political Science, Pune; Symbiosis Law School, Pune; and DY Patil College of Law, Pune.
The on-stage regional finals witnessed intense competition as the finalists put their knowledge to the test, tackling a wide range of carefully curated questions co-developed with 
Qshala
, a curiosity based learning platform. One memorable question involved identifying the two women depicted in the artwork on the original manuscript of the Indian Constitution. Additionally, students were introduced to a lesser-known Constituent Assembly member, BV Keksar, who had a passion for classical music and sought to revive it through radio, during his tenure as the Information Broadcasting Minister. Notably, he controversially banned popular music on the radio and another activity he deemed a colonial pastime. After much head-scratching, it was GNLU who cracked the mystery, correctly identifying 'cricket commentary' as the banned activity.
The participants were also informed about a copyright infringement lawsuit against ChatGPT in the United States, citing multiple instances of unauthorized content generation. One such instance involved the creation of an unauthorized prequel titled 'A Dawn of Direwolves.' The teams were challenged to identify the series to which this prequel belonged, which turned out to be none other than the Song of Ice and Fire series, the foundation for the immensely popular TV show, Game of Thrones. This question underscored the ongoing debate surrounding the capabilities of AI and copyright infringement, shedding light on the future of creativity in the AI era.
Following five rounds of challenging questions, Goa University emerged as the champions of the West Regional Round, with Gujarat National Law University as the runners-up and Armed Forces Medical College, Pune as the second runners-up. ConQuest 2023 is now set to continue its journey in New Delhi for the North regional round.
This article first appeared in ThePrint on 18 October 2023.