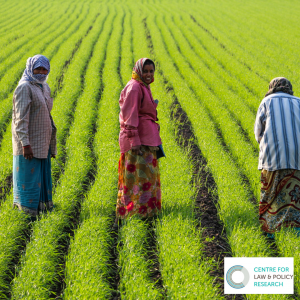 Source: Wikimedia Commons; Image only for representation purpose
---
On 18 February 2021, Uttarakhand became the first Indian State to provide for co-ownership rights to women in their husband/father's ancestral property. The State Government amended the Uttarakhand Zamindari Abolition and Land Reforms Act, 2003 through an ordinance. The ordinance seeks to empower women economically who would have otherwise been financially dependent only on agricultural work. While this is the first law to recognise equal property rights for women in husband/father's ancestral property, the nation-wide applicable The Hindu Succession Act, 1956 grants equal rights to daughters in a joint Hindu family property. This was achieved only in 2005 through an amendment: only after five decades of the passing of the succession law. In another significant development, last year, the Supreme Court held that daughters whose fathers died intestate before 2005 would still have equal rights over the property.
Even though these laws and precedents recognise women's right to a fair share of the property, in reality, this right is being denied due to various social, cultural, and institutional reasons. There is no comprehensive and accurate data on land ownership in the country and more so on women's ownership of agricultural land. As per the Centre for Land Governance Index, which relied on 2011 census data, only 12.9 % of Indian women hold agricultural land. Patriarchal system, the State's apathy to implement the relevant laws, and the judgments are some of the causes behind this kind of discrimination. Also, there is an absence of proactive measures in terms of creating awareness, facilitation in the succession of father/husband's properties to women lead to gender-based discrimination in property rights in India.
Social and Cultural Practices  
The patriarchal system is one of the biggest reasons behind gender-based discrimination in property rights. Women's property rights are dependent on whether she is married or unmarried, and what religion she belongs to. Most women are hesitant to ask for their property rights as they are vilified by their family members. When they do seek their rightful share in the property, they run into several administrative and bureaucratic hurdles. And most often they have to go to the courts to claim their share. This results in access to justice issues as many women would not have enough resources to see this fight through.
Laws Need Action 
The bureaucratic and archaic system governing land and property rights makes it difficult for women to access the relevant documents required to claim their share in the property. For instance– getting the 'legal heir certificate' from Tahsildar is a big challenge. These documents are indispensable for a successful court battle.
Land records are haphazardly maintained and the government officers working at these offices are gender-biased. As women generally reside away from their birthplace, it makes it logistically difficult for them to take on this battle for long.
Lack of Awareness 
As research findings have shown, there is an absolute lack of awareness among women about their property rights. Many women are still not aware that they are entitled to an equal share in their father/husband's property.
Even after many progressive judgments and laws, there is still a long way for women to get their due property rights. The state should take a 'gendered approach' in implementing these laws and also facilitate the women folx to access their rights. Civil society organisations can also play an important role in creating awareness and sensitization on property and inheritance rights of women.