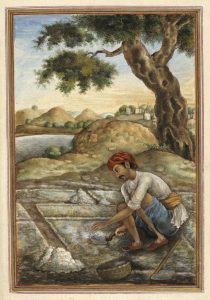 Source: Wikimedia commons; Tashrih al-aqvam, an account of origins and occupations of some of the sects, castes and tribes of India.
With the current bull-run in financial markets, the low-interest rate for two-wheeler/housing loans, rally in stock prices, plenty of funds to entrepreneurship thru PLI scheme, RBI, and banks' support via "no interest on loans" are well known and occupy the mind-space of everyone in these post-pandemic times of economic recovery.
If however, we pause and ponder, we live with a formal definition contained in the statute book SC and ST (Prevention of Atrocities) Act 1989 on "Economic Boycott"; besides various other marginalized groups excluded due to gender, caste, sexual orientation, and gender identity. Therefore some soul searching will be in order for enabling financial markets' access to various marginalised and excluded groups and thereby address end to economic boycott, implicit or explicit.
Before we propose a feasible solution, the existing legislation defines Economic Boycott as herein below:-
Sec 2 (bc) defines: " Economic boycott" means-
(i) a refusal to deal with, work for hire or do business with other person; or
ii) to deny opportunities including access to services or contractual opportunities for rendering service for consideration; or
iii) to refuse to do anything on the terms on which things would be commonly done in the ordinary course of business; or
iv) to abstain from the professional or business relations that one would maintain with other person;
While discrimination arising out of caste prejudice has been lucidly enumerated in the above definition, we need to recognize economic boycott through denial of financial input, credit or loan or informed investment advice, not only to Dalit and Adivasis but also to the other excluded groups due to gender, differently-enabled, orientation.
Due to the informational asymmetry to such excluded communities, there is a denial of equal opportunities to final inclusion. Needless to say, it creates an iniquitous society with unwitting consequences of economic exclusion. A solution to end such an economic boycott could be the perfect antidote; as a means to promote inclusive growth, society and welfare.  An "inclusive" redefinition of Economic Boycott could be generically codified to include specifically access to investment advice access, Credit/Loan entitlements with reasonable repayment culture/criteria embedded therein; via transparent rule-making process, and thus economic boycott arising out of lack of Credit/Loan facility at affordable rates from the formal financial system can be ameliorated by bridging gaps between policy and practice.
With Fin-tech, digitization, and "Aaadhar" platforms available, such widened access definition on economic boycott will go a long way to not only promote economic growth to the disadvantaged but also solve the growing inequalities. There are a lot of initiatives by policymakers at RBI, Public Sector Banks, and Ministry of Social Justice establishing financial development companies to promote Credit, yet the RBI document on Financial Inclusion has miles to go comparison to the needs. Further, when compared to Credit availability to companies and others on the higher pedestal, there is no financial access to really marginalised communities and this would amount to an economic boycott.
Three policy recommendations for combating Economic Boycott are suggested:
Financial Literacy: The Govt of India has been, along with financial regulators –SEBI, RBI, IRDA, PFRDA- taking steps to promote the national financial literacy mission. For the marginalized groups, specific parameters and targets in reaching out to them will be the best public good measures keeping in view the big challenge – access, cost, awareness, technical knowledge base, and other resources, in such intervention programs. Therefore, the suggestion is to design-focused Financial Literacy Programs for marginalised communities and there should be special specialized programs for awareness of the same so that intended behavioral response triggers beneficial outcomes.
Technology-led solutions on interactive mode: Technology as a bedrock could bridge the lack of marginalised group engagement thru attention, interest, desire, and action.  This can be well implemented by call centers' with toll-free numbers or thru zoom or Webex demos; handling such group interactions in a persuasive mode, illustrating the financial well-being of the disabled.  Such communication centers have to be located at the district level for the best outcome duly supported by administrative infrastructure.
Incentives to Credit and linkage with "social capital" at the grass-root level: Currently, markets are flooded with plenty of capital and there is the need for channeling such capital to socially desirable programs for the upliftment of excluded groups. This will address economic boycott, and would well enhance the overall productivity, growth, and enhanced consumption markets making it a powerful economic incentive.   This could be achieved only via institutional intervention at the bottom of the pyramid level, with microfocus to ensure delivery to marginalised communities with the commitment to end the economic boycott.
These steps may sound somewhat altruistic, but eminently doable and technology can be used as a leveler of inequalities.
This blog is authored by S Raghunathan, an Advocate and ex-financial sector professional.