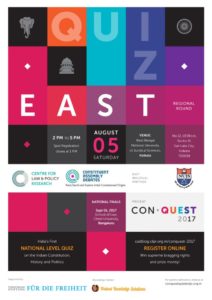 Who can participate?
This year the quiz is open to senior high school students (11th – 12th grade/PUC/Junior College) in addition to undergraduate and graduate students from all disciplines.
What is the format of the quiz?
The Quiz will consist of four regional rounds and one national final. Each regional round consists of a regional prelim and a regional final, both of which will be conducted on the same day. The Quiz is on Indian Constitution, Politics and History.
The prelim rounds will be a written test and top eight teams shall go onstage to compete at the regional final. Two of the eight spots in each of the regional finals are reserved for the highest scoring team with at least one woman member and the highest scoring high school team.
The top two teams from each regional final round shall go to the nationals final to be held in Bangalore.
What are the rules and regulation governing the quiz?
Please find the rules and regulations for ConQuest 2017 here.
How to register?
Online registration can be done here.
Spot registration can also be done at the venue of your regional zone (This closes 1 hour prior to the start of the preliminary rounds).
Where and when will the quiz be held?

| | | | |
| --- | --- | --- | --- |
| Round | Date | Timings | Venue |
| East Regional Round | 5th August 2017 | 2.00 P.M to 5.00 P.M | West Bengal National University of Juridical Sciences, KolkataNo.12, LB Block, Sector III, Salt Lake City, Kolkata, West Bengal 700098 |
What do the winners walk away with?
Regional Round: 1st place – Rs. 10,000; 2nd place – Rs. 7,000; 3rd place – Rs. 5,000
National Finals: 1st place – Rs. 30,000; 2nd place – Rs. 20,000; 3rd place – Rs. 15,000
Who to contact in case of queries?
Please write to conquestquiz@clpr.org.in
Kindly watch this space and follow us on Facebook , Twitter  and Instagram for more updates