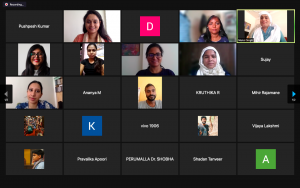 On 31st July 2021, CLPR conducted a workshop for civil society organisations in Telangana on The Scheduled Castes and Scheduled Tribes (Prevention of Atrocities) Act, 1989 ("PoA Act"), and the Rules. The workshop comprised two sessions – the first session provided an  overview of the POA Act and the Rules, and the second dealt with challenges in the law's  implementation, particularly at the grassroots.
The first panel was led by Almas Shaikh, a human rights lawyer. She began by explaining that the term "atrocities" was chosen instead of "crimes" in the title of the Act to better describe the gravity of the crimes committed against SC/ST persons. She then took the audience through the provisions of the Act. She emphasised on the need for special courts to conform to the time frame within which the cases under the Act need to be disposed and elaborated on the Act's  witness protection provisions. She stated that the biggest challenge to the implementation of the Act resulted from the state authorities themselves.
The second panel on the PoA Rules was taken up by Hema Venkat Rao, advocate and human rights activist. Continuing from where Ms. Shaikh left off, Ms. Rao highlighted the long period of time it took for the authorities to frame the Rules under the Act. Through her own experiences of dealing with the Act she touched upon its key features: the precautionary and preventive measures, grievance redressal etc. Ms. Rao ended her panel noting that caste prejudices have to end in order to fulfil the vision laid out in the Constitution.
The third panel, on the Grassroots Interaction with the Act, was led by Sujatha Surepally, Professor of Sociology at Satavahana University. She spoke about the reluctance of the police to file cases under the PoA Act. When they do file, the translation of the complaint from the vernacular language to English is often inaccurate which is often exploited by the accused during trial.  She noted that if the investigating officer is Dalit, there is enormous pressure from seniors to not file a PoA case. She ended her session by stating that the Act will not see proper implementation as long as the caste system exists in society. is prevalence of caste system in the society.
The final panel, on the Challenges in Implementing the Act, was taken up by Jhansi Geddam, National Convener of Dalit Stree Shakthi. She discussed how the casteist mindset of the society reflects in the cross-examination of the victim by defense lawyers. She elaborated that the root cause for caste discrimination in society is the dehumanisation of Dalits in scriptures like the Manusmriti. She agreed with the point made by other speakers – that State authorities were  the biggest hurdles in Dalits accessing justice under the PoA Act.
The workshop ended with a Q&A session.