The Centre for Law and Policy Research, Bangalore (CLPR) is a not-for-profit organisation, dedicated to making the Constitution work for everyone through law and policy research, social and governance interventions and strategic impact litigation.
We are looking to engage a Research Associate for CLPR.
---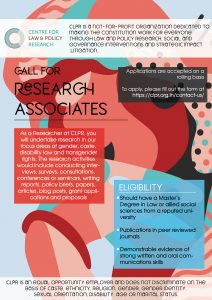 As a Researcher at CLPR you will be required to conduct primary and secondary research in our focus areas of gender, caste, disability law and transgender rights. The research activities would include conducting interviews, surveys, consultations, conferences or seminars wriiting reports, policy briefs, papers, articles, blog posts and grant applications and proposals. It would also include participating in podcasts, panel discussions, conferences.
Scope of work:
Overseeing the day-to-day operations of research projects;
Managing the collection of quantitative and qualitative data;
Summarizing and analyzing data;
Writing out the research findings, as reports, papers, blog posts;
Writing grant applications;
Preparing findings for publication;
Reviewing and abstracting published research.
Skills and Qualities:
Should have a Masters' Degree in Law or allied social sciences from a reputed university.
Independent individual who can translate research requirements into an action plan and see projects from initiation to completion.
Strong interpersonal skills that help with building networks among, and conducting primary research at different types of entities.
Must be knowledgeable about the areas in which CLPR works and must have research experience in these or related fields.
Must have strong communication and organizational skills.
Ability to manage several projects simultaneously and under pressure of deadlines.
Familiarity with quantitative research and analysis desired.
Publications in peer reviewed journals would be considered positively.
Demonstrable evidence of strong written and oral communications skills.
Should have excellent analytic, writing and organizational skills.
 Capable of independently managing time and the tasks associated with a fast-paced research agenda and strong organizational objectives.
This position reports to the Executive Director, but must be collaborative and responsive to the staff and researchers in CLPR. Salary and benefits are commensurate with experience. Resume with complete employment history and education background plus a relevant writing sample or publication should be submitted.
Applications are accepted on a rolling basis.
To apply please fill out the form here.
CLPR is an equal opportunity employer and does not discriminate on the basis of caste, ethnicity, religion, gender, gender identity, sexual orientation, disability, age or marital status.