We are open to considering part-time engagements.
The Centre for Law and Policy Research, Bangalore (CLPR) is a not-for-profit dedicated to making the Constitution work for everyone through law and policy research, social and governance interventions and strategic impact litigation.
We are looking to engage a Consultant for CLPR's Supreme Court Observer initiative.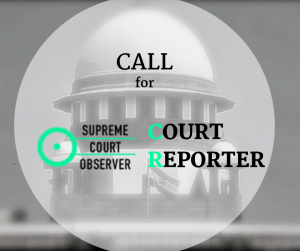 The Supreme Court Observer is a living archive of the Supreme Court of India and brings alive and makes accessible the work of the Supreme Court. The Observer aims to build an enduring constitutional culture in India by enhancing the popular understanding of the Supreme Court's contribution to our everyday lives.
Among other tasks, the Court Reporter will:
Identify cases to be tracked at the Supreme Court of India
Prepare detailed and intelligible daily reports for the tracked cases
Write case briefs, case backgrounds, plain English translations of judgments, and other content
Write on any other aspect of the working and history of the Supreme Court.
Eligibility:
Must have a minimum of two years of litigation experience
Must demonstrate excellent research and outstanding writing skills
Must have a strong academic background (masters degree preferred)
How to apply:
To apply, write to jai.brunner[at]clpr.org.in and title the subject of your e-mail as follows: 'Application for Court Reporter | SCO'.
Attach:
Compensation dependent on experience of candidate.