The Centre for Law and Policy Research (CLPR) is excited to announce the opening of a partially-funded, two-year fellowship for practicing lawyers in the beginning of summer 2023. We are looking to take on 3 fellows as part of this fellowship.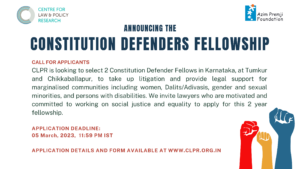 About CLPR
We are a not-for-profit trust, established in recognition of the need to have a legal research organisation dedicated to the rule of law and defense of constitutional values.  We focus on addressing discrimination at the intersections of caste, gender, and disability, and other minorities through law. Ultimately, we are dedicated to making the Constitution work for everyone through law and policy research, social and governance interventions and strategic impact litigation.
About the Position
The Constitution Defenders Fellowship is a part-time, partially-funded, two-year long opportunity. Selected fellows will engage in litigation and advocacy in Karnataka, in the districts of Tumkur and Chikkaballapur and work towards providing legal support for marginalised communities including women, Dalits/Adivasis, gender & sexual minorities, and persons with disabilities.
This Fellowship entails the following:
Fellows should be willing to take up cases to represent Dalits/Adivasis, gender & sexual minorities, and persons with disabilities for protection of their rights under various special legislations including The Scheduled Castes and Scheduled Tribes (Prevention of Atrocities) Act, 1989 (SC/ST Act), The Transgender Persons (Protection of Rights) Act, 2019, The Employment of Manual Scavengers and Construction of Dry Latrines (Prohibition) Act, 1993 (The Manual Scavengers Act), The Rights of Persons with Disabilities, 2016 and others laws
Fellows shall also take part in legal awareness and Know Your Rights Sessions at the grassroots community level with community members
Fellows shall report and interact with the CLPR team and partner organisations on their work
Fellows shall attend an orientation programme as well.
Eligibility
Applicants should be practicing lawyers who demonstrate a strong interest in rights-based advocacy and a commitment to social justice work.
Applicants should be law graduates and enrolled with the Karnataka State Bar Council.
The positions are based in Tumkur and Chikkaballapur and applicants should be practising advocates based in these districts.
Applicants should have good reading and writing knowledge of Kannada.
Applicants should have excellent writing and drafting skills.
Application Process
Applicants must submit:
A completed CLPR Constitution Defender Fellowship Application Form – available here [https://forms.office.com/r/TgCqGSFMM1].
Remuneration
Fellows will recieve a stipend of Rs. 20,000 per month during the course of the fellowship.
Application Deadline
Applications are to be submitted by March 05, 2023, 11:59 PM IST. The fellowship shall commence from April 01, 2023.
CLPR is an equal opportunity employer and strongly encourages persons from SC/ST backgrounds, minority religions, LGBTQIA+ persons, and persons with disabilities to apply.