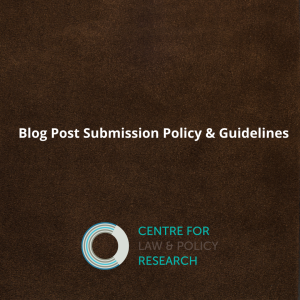 CLPR welcomes original contributions which provide high-quality analysis of recent constitutional law and human rights developments in India and across the globe, including case law, current litigation, legislation, policy-making, and activism. The CLPR Blog is a space for publishing high-quality writing on these current themes and to make it a space where authors can share their work with a wide global audience.
The CLPR Blog welcomes submissions from students, early career researchers, policy-makers, senior academics, lawyers, and members of civil society organisations. However, we only publish blogs that are of high quality and that comply with the Submission Guidelines set out on this page.
Guidelines for Submissions: 
Blog posts must be between 500-700 words in length.
Blog Posts that are longer than 700 words will not be considered for publication.
Blog Posts must include hyperlinks to relevant legal sources and background information, including any judgments, laws, treaties or other legal texts which are mentioned. Hyperlinks must link only to legal or verified news sources. The Editorial Board will make the final decision over what constitutes a verified source. Footnotes should not be used at all.
Blog Posts should be clear and concise, leaving out excessive jargon and verbiage. Blog Posts that are submitted must be fully proofread and must conform to a good academic style. In particular, the blog post must provide a crisp analysis, the Blog is not a platform for opinion pieces.
Blog Posts should have informative titles from which a reader can tell what the post is about.
Blog Posts should reflect original and unpublished work.
The author(s) should provide an image along with the blog post. The image should not be copyright protected and the source of the image should also be provided.
The Editorial Board also reserves the right to accept and reject the subject matter of the blog post for the CLPR website.
The Editorial Board reserves the right to edit and modify the blog post, with the prior approval and consent of the author(s).
Cross-posting or publication on other platforms is permissible only with the permission of the editors of the CLPR Blog and a minimum of 24 hours after the post has been published on the CLPR Blog.
Blog Submission Process:
All blog posts must be emailed to the Blog Editor (vineeth.krishna@clpr.org.in) in the form of a word document.
You may be asked to make edits based on the suggestions of the Editorial Board.
You will be informed of the decision on publication of the post.
Please reach out to the Blog Editor in case you have any other queries.
Please note that submission policy and guidelines are applicable for both internal and external submissions.