In the previous posts on bail decision making in India, we noted the relationship between decision making in lower courts and the under-trial prison population. We also gathered information in our study on bail decision making in Karnataka, on the conditions imposed by courts at the pre-trial stage, from court records. In this post, we explore the different kinds of conditions that courts regularly imposed in Bengaluru, Tumakuru and Dharwad.
Conditions under the Code of Criminal Procedure (CrPC)
Sec. 436–437 of the CrPC deal with bailable and non-bailable offences respectively. In non-bailable cases, Sec. 437 provides that the court has the discretion to grant bail subject to conditions which require that the accused:
(a) act in accordance with the conditions of the bond
(b) not commit an offence while being released on bail, 
(c) not interfere with the investigation or tamper with evidence. 
Further, Sec. 440–445 deal with the nature of the bond to be executed by the accused, with or without sureties. The objective behind requiring bonds with sureties is to ensure that the person arrested will appear before court for subsequent hearings. 
In our study, we noted that in a substantial number of cases bail was granted subject to conditions, violation of which would inevitably lead to cancellation of bail. Broadly, these may be classified into two types – monetary conditions and conditions relating to conduct of the accused during the criminal justice process. 
Monetary Bail Conditions
Courts most commonly granted bail subject to the execution of a personal bond supported by a surety.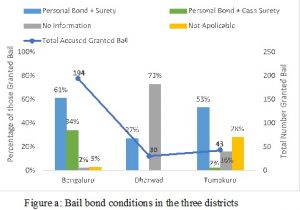 In Bengaluru and Tumakuru, this order was made in over 50% of cases where bail was granted. Personal bond with cash surety was ordered in a negligible number of cases in Tumakuru and Dhaward while in Bengaluru alone, this order was made in a substantial 34% of cases.
Personal Bond + Surety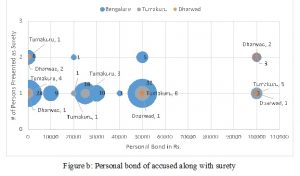 In most cases, courts across the three districts set the bond amount between Rs. 100 – Rs. 50,000 with 1 or 2 sureties. Courts set a higher bond value – Rs. 1,00,000 – only in a few cases. 
Personal bond + Cash surety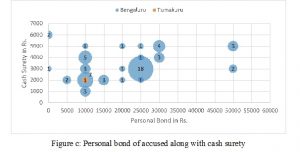 The results were similar in Bengaluru and Tumakuru where the court granted bail subject to the arrested person executing a personal bond with cash surety. Personal bond values predominantly ranged between Rs. 10,000 – 25,000. A high bond amount of Rs. 50,000 was set in only five cases. Notably, Dharwad had no cases where such a condition was ordered.
Conditions Relating to the Criminal Justice Process
Across the three districts, the five conditions appearing in figure (d) were most commonly ordered, usually in combinations of two or more.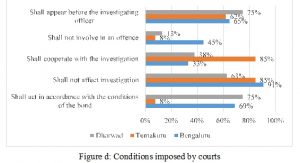 In 91% of cases in Bengaluru, courts granted bail subject to arrested persons refraining from prejudicially affecting the investigation in any manner. In Tumakuru, courts most commonly imposed this condition and a related condition of cooperating with the investigation (85%). 
Rather than conditions relating to investigation and trial process, courts in Dharwad simply required accused persons to act in accordance with the conditions of the bond (75%) and appear before the investigating officer (75%).
Across the three courts, some of the other conditions imposed by courts included intimating any change of address, furnishing contact details and staying within the jurisdiction of the court. 
Conclusion
Only a few bail orders in the three districts laid down conditions on orders granting bail. We note that in these pre-trial cases, courts imposed a standard set of conditions while granting bail. However, the orders do not reveal reasons for imposing these conditions. For instance, it is not clear whether courts are more likely to set a higher value on the personal bond or require more sureties depending on the nature of offence. As a result, it is difficult to determine from court records if the conditions imposed are unreasonably restrictive. Therefore it is crucial that as a first step, lower courts pass reasoned and detailed orders which set out the factors that were germane to the bail decision and their relation with the conditions of bail.
– This post was authored by Deekshitha Ganesan, Research Associate