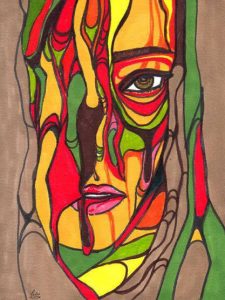 Source: https://bit.ly/3bYjVf6; Image only for representational purpose
The Supreme Court has consistently held that the State has an obligation towards acid attack survivors and given elaborate judgements for compensation to be provided. However, the principles of equality and dignity are rarely realised for them in practice. This post focuses on their right to seek monetary compensation and also recognized as persons with disabilities. 
Compensation 
Laxmi Agarwal, a prominent campaigner for acid attack survivors, had filed a petition in the Supreme Court when she faced a gruesome attack. In Laxmi v Union of India, multiple orders were passed to prevent acid attacks and provide welfare to survivors. The Court was highly critical of the compensation schemes at the time, noting the need for uniform, adequate and proportionate compensation and mandated that a minimum of ₹ 3 lakhs should be paid to acid attack survivors, within defined time periods. The amount should be given irrespective of a perpetrator being found guilty. The Court designated the District Legal Services Authorities as the body in charge of processing applications for compensation, with the executive in charge of overseeing the scheme. The Court also passed an order in the case requiring all hospitals, public and private, to provide free treatment to acid attack survivors and requires state governments to enforce the right to free healthcare at private hospitals. 
Following the Laxmi judgement, in Parivartan Kendra v Union of India, which concerned acid attacks against two Dalit sisters, the injury was so severe that one of their medical expenses had already crossed ₹ 5 lakhs at the time. The Supreme Court this time held that the ₹ 3 lakh compensation mandated in Laxmi was only a minimum and that governments could provide more compensation and should take into consideration factors such as medical expenses, social stigma, the likelihood of getting a job and the severity of the injury in determining the amount.  
In Nipun Saxena v Union of India, the Court was concerned with the dignity of victims of gendered violence against women and this prompted the Court to order all States and Union Territories to implement a uniform scheme drafted by NALSA as a minimum. The Karnataka Victim Compensation Scheme provides Rs. 3 lakhs as a minimum compensation and provides up to Rs. 8 Lakhs.  
Finally, the Rights of Persons with Disability Act, 2016, recognises disability from a sociological perspective rather than a medical one. It recognises 'acid attack victims' as persons with a specified disability. This allows survivors to get a disability certificate. Those with benchmark disabilities, i.e. those who have 40% or more 'disfigurement', are entitled to reservations in government jobs. They are also entitled to other benefits under Chapters VI and VII of the Act, including free education for their children. The recent Vikash Kumar judgment on the Act clarified the importance of rights granted to people with less than 40% of disabilities as well. The private sector is also obliged to make reasonable accommodations and issue an equality policy. It remains to be seen how, or whether, this will be implemented with respect to acid attack survivors. 
However, despite all these judgements of the Supreme Court, implementation is still a huge problem.  Many survivors state that the amounts transferred to them had arbitrary deductions, and many often receive less than even ₹ 3 lakhs. Private hospitals either deny them admission or quickly transfer them and treatment is not done free of cost as mandated. Public hospitals, on the other hand, suffer from inadequate facilities for care. Other additional schemes, such as the assistance of up to ₹ 1 lakh under through the PMNRF, are not adequately publicized and authorities in charge of processing them sometimes do not know of them. While female acid attack survivors are covered under the victim compensation schemes, male survivors of acid attacks are often denied any compensation at all even though the Laxmi judgment applies to them.  Acid Attack survivors struggle to get disability identity cards and those who get them, are not able to get a reservation in public employment as persons with disabilities.  
The Supreme Court judgments as well as the rights under the Disabilities Act require Governments to ensure these rights are well-publicized. The genuine implementation of these rights is necessary to ensure the legal, statutory and constitutional rights of acid attack survivors are guaranteed.