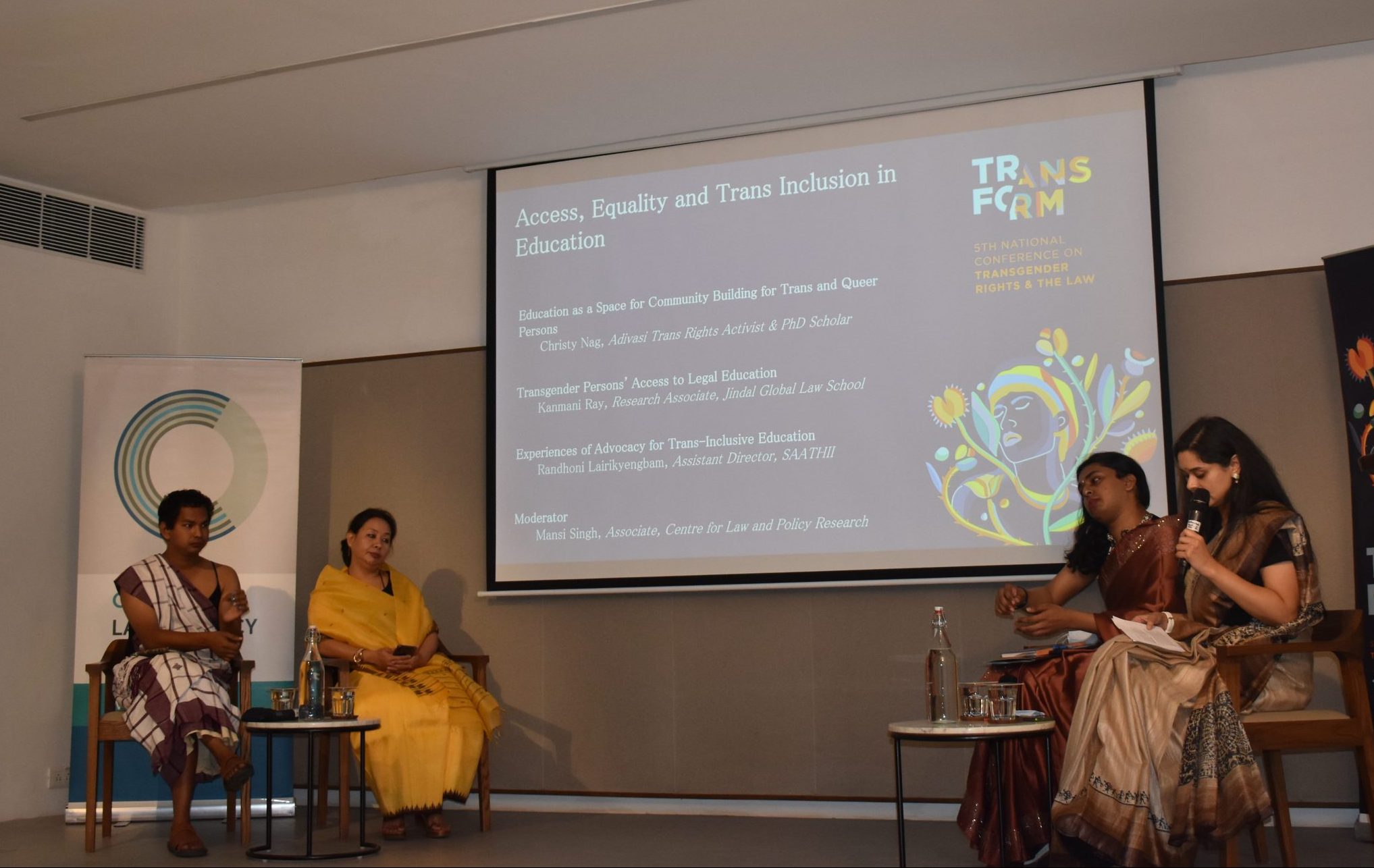 This is a brief summary of the panel on Equality in Education at Transform 2021. The full video of the panel can be viewed here.
Christy Nag, an Adivasi, trans activist spoke on "Education as a Space for Community Building for Trans and Queer Persons". As an Adivasi person, Christy argued that the education system in India is based on an existing colonial mindset. There is thus a need for an education system that is trans and Adivasi inclusive. The recent NCERT controversy and the backlash and opposition against the "Teachers' Manual on Inclusion of Transgender Children in School Education" that was put out by the NCERT was due to the colonial mindset of the State, which is not willing to accept transgender persons in its understanding of 'normal'.
Christy highlighted that there has been a complete collapse of the entire education system after the pandemic. She pointed out how queer collectives can create spaces for transgender persons. One of the efforts of the Queer Collective, started by her at TISS, led to the creation of gender-neutral hostels, which was only because the Collective.  In Christy's work with the Adivasi community through the group Prayatn, they noted how even residential schools never included Adivasis in the decision making process. She now works with a group of village elders, school students, and Adivasi school students define the syllabus together and structure the curriculum which makes schools both Adivasi and queer friendly.
Kanmani Ray, a lawyer, discussed "Transgender Persons' Access to Legal Education".  Kanmani, focused on trans persons' experiences in legal education. She began by discussing her experiences at Delhi University where she studied law. She pointed out how many transgender persons had law degrees, but kept dropping out or not practicing law and also that trans students in professional courses often end up taking admission in distance learning programmes as the experience of attending the full-time courses is too painful. They are harassed, ridiculed and bullied for their gender self-expression. These issues are not addressed by the universities and she mentioned how even the Dean of her faculty stated that there were no trans students in the law faculty.  Kanmani referred to a study on the state of trans-inclusivity across NLUs which showed how non-inclusive most national law universities were. She pointed out that if law universities themselves do not implement the Transgender Persons (Protection of Rights) Act 2019, then other educational institutions cannot be expected to be trans-inclusive.  Kanmani also identified the reasons for the lack of trans-representation in the legal profession, such as lack of transgender persons as faculty, lack of gender-neutral washrooms on campuses and in courts. There are no concessions or reservations for transgender persons in getting admission to law schools. All of this leads to further marginalisation in the legal profession. Kanmani concluded by emphasizing the need for institutional change in the legal profession.
Randhoni Lairikyengbam from SAATHII spoke on "Advocacy for Trans-Inclusive Education". Randhoni outlined her work with SAATHII, civil society groups, and community partners in the field of education. She stated that the NALSA judgment has not been implemented in many states even after the passage of the Transgender Persons (Protection of Rights) Act 2019. Her work includes sensitising stakeholders and educating teachers and students on trans-inclusivity in education where they discuss problems faced by gender non-conforming students, infrastructure, bullying and harassment faced by students.  Training is also done on the existing laws and judgments and on they can be better implemented on the ground. They also conduct training sessions for NCERT master trainers. As a result of these programmes, several institutions have re-notified their UGC anti-ragging regulations. The challenges they face include the slow pace of attitudinal change as well as translating policies and advisories into action. Implementation of the policy is often delayed because of transfer of officials, systemic inaction and lethargy, and slow government approvals.
All of these presentations highlight the real and urgent need to make education at all levels, from primary, middle school, and higher education to professional education trans-inclusive. Not only should it be trans-inclusive but also accessible and equal to other intersectionalities of Adivasi and caste, disability, and other minorities.