NCS | St John's Medical College Chapter | Boundaries, Nationalities and Identities
NCS | St John's Medical College Chapter | Boundaries, Nationalities and Identities
Time 2:00-3:30 P.M.
Venue 3rd Floor, Humanities Department, St. John's Medical College, Bengaluru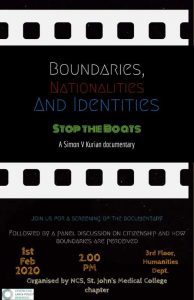 The St John's Medical College Chapter of the National Constitution Society will host a film screening and discussion on "Stop the Boats"- a story of asylum seekers and their detention.
The film screening will be followed by a discussion that will touch upon the Citizenship Amendment Act 2019.
The National Constitution Society (NCS) a network of student Constitution Societies across India that aims to create, celebrate and practice India's constitutional values.
Time 2:00-3:30 P.M.
Venue 3rd Floor, Humanities Department, St. John's Medical College, Bengaluru